Red
Adopted
7 years old · Female · Fawn · Cat Tolerance Unknown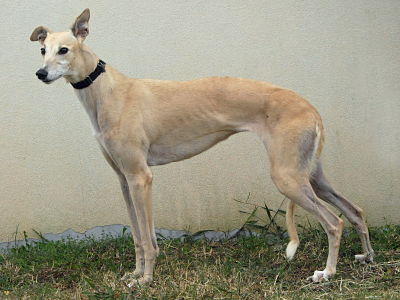 Bio
Hi there! If youre reading this bio, I'm guessing you are hoping to find a greyhound companion. If that is indeed the case, I'm your girl! Though my name is Red, I'm a petite fawn lady of seven years. I have beautiful golden brown eyes, soft bunny fur and the cutest mohawk you've ever seen. I came from the Cherokee blood bank, and happily, am getting used to living in a home with a soft bed, squeaky toys, treats and lots of love. While I am usually a calm girl, every now and then I have a burst of energy and will 'party' with one of my stuffies, making everyone laugh. Foster mom calls me a 'Velcro dog' – wonder what that means...
She also says I'm about a perfect dog. I use the dog door, don't have accidents in the house and I don't get on the furniture. I sleep all night on my big bed in her bedroom.
By the way, I am just fine with other dogs. Been unsuccessfully stalking squirrels in the back yard and would most likely not be good with cats for that reason. (I hear that's called 'high prey drive'.) I have to tell you thunderstorms frighten me and I like to have a small space in which to curl up until the noise is over. I love to smooch on my foster mom's granddaughters, and everyone who meets me says I am a real sweetheart.
Well, enough about me - if you have any questions about me or any of my greyhound buddies, my friends at GU can answer them for you. I'm looking for a loving friend and loyal companion, and you just might be my person!