Drake
4 years old · Male · Dark Brindle · Cat Tolerance Unknown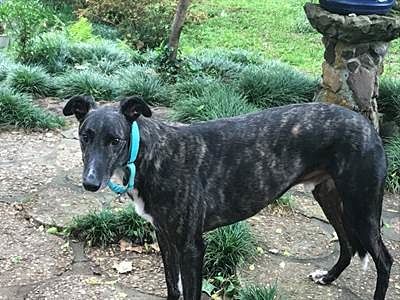 Bio
Drake is a very shy sweet boy. There is no way of knowing how life has treated him, but it is obvious that he had not been well socialized and has encountered deep trauma at some time in his past.
This handsome dark brindle five year old has come a long way in a few months. He is coming out of his shell and is more trusting. He enjoys his kibble and does a funny happy dance when it is served. Smooth floors are a scary thing for him still, and he relies on his trusty carpet runners to keep him confident and secure while moving through the house. By the way, Drake loves children and squeaky toys, in that order.
It was a big day for Drake recently when his foster mom brought a second foster hound home. Drake surprised everyone by greeting him with exuberant tail wagging and a happy lap around the back yard. The new guy has definitely been a positive influence for Drake. Until he arrived, Drake would come in the dog door, but not go out. Now he breezes in and out at will. At his first Meet and Greet Drake refused to cross the parking lot unless his new friend was by his side.
As mentioned earlier, Drake has made huge strides toward becoming a happy confident dog. However, there are days when he regresses somewhat and becomes skittish and unsure of himself and others. It is for this reason Drake should only be adopted by an experienced greyhound owner who possesses much patience and understanding. It would also be most beneficial if there were other large dogs, especially greyhounds, in the household.