Romeo
Adopted
2 years old · Male · Brindle · Not Cat Tolerant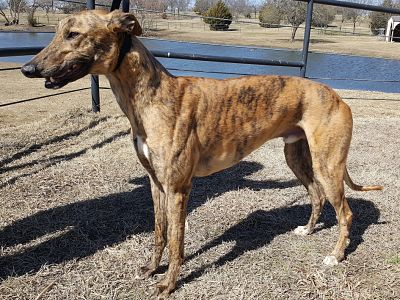 Bio
Hello, my name is Romeo – well named because I am a lover extraordinaire! From the moment I meet you I will be your best new friend. Did I mention that I am quite handsome? The gents envy my smooth red brindle coat and ladies melt when I show them my sweet grin.
Always happy to meet a new friend, I immediately settled in with my foster family. I have a foster sister and we have good times running together in the yard. My foster dad is disabled, so I check on him and lay my head on his arm a lot during the day. He will pet me, and it seems to make him feel better. (I sure hope so.) I like loving on my foster mom too! I'm thinking I could be a good therapy dog since I am so friendly and affectionate.
Did you know there is a hole in the wall at my new foster home? I figured out, on my very first day, that you can go through it and be outside! I can even stick my head outside to check the weather or whatever seems to be going on. Foster mom was so impressed that I tried using that hole (she calls it a dog door) on my own. She even gives me a treat when I come back in! Boy, do I love those treats! I have not had an accident in the house, and she says that is a good thing. I have such fun taking my toys outside and sometimes I even remember to bring them back in.
I pride myself in being kind of a watch dog; if there is anything unusual outside, I will bark to alert the family. And I must admit to a bit of a shoe fetish. If you choose to make me yours, be sure and put your shoes out of my reach unless you want me to add my signature toothmarks, er, style. Just sayin'.
I like other greyhounds but will be okay as only dog. As a matter of fact, I will be a great first-time greyhound for someone. Sorry, but I don't like kitties. I confess to having some separation anxiety…I worry when Foster Mom goes outside. I whine and call for her to come back in. (She lives in the country and who knows what's lurking out there!)
If you think that I might be a perfect fit for you and your family, and you need a great BFF, please contact Greyhounds Unlimited for adoption details. Hope to make your acquaintance soon!