Brynn
Adopted
2 years old · Female · Brindle · Not Cat Tolerant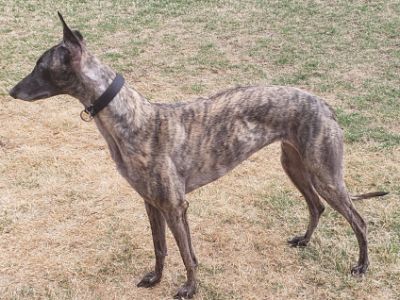 Bio
Are you looking for a partner in crime? Brynn would be an excellent accomplice! She is definitely up for adventure! This girl rarely shys away, in fact, she is often the first one in the thick of action.
If your plans include the need for a lookout, Brynn is your girl. She is a bit of a watchdog - she will bark if she hears any strange noises such as new to her appliances kicking on, or the mysterious thunder from the sky. Your safety is her priority. She is also quick to run to the window to see what is happening in the yard, especially when her other cohorts are outside.
This little thief loves to play with all the toys in the house, especially if someone else is having a good time. She will steal their toy to make sure she is not missing out.
In the event of needing to make a quick getaway, you could always toss your goodies and Brynn would be happy to fetch them. She loves to play fetch, especially with tennis balls or her purple kong.
Perhaps your heist requires an extra set of hands- Brynn can help carry supplies for you. She is often found carrying her toy de jour around with her everywhere she goes.
All fun aside, Brynn is a wonderful pup coming into her own. She is fun, inquisitive, smart, and extremely playful.
More about Brynn:
Brynn loves to play fetch, bitey face, bump and run (Brynn's own form of instigated chase), and Tug-tug.
She loves to follow you to see what you are doing, and usually puts her nose right into the middle of whatever it is!
She would rather be playing than anything else in the world. She is usually the last pup to settle in at night, or even take a nap after a walk- but she is getting the hang of being a couch potato. She is also one of the first pups up in the morning.
Her favorite toys are tennis balls, small kong, and a small green bean shaped squeaky toy that fits in her mouth for easy all day carrying.
She will use a dog door - in fact, I can only imagine the fun she would have if we left ours accessible 24/7.
She knows "go potty" means to go outside, and has had very few accidents since arriving.
She knows "no" or "aaent" to stop doing something, but this clever girl is persistent, so you will need to be consistent if you don't want her to do something.
She is not Thunder Phobic - in fact she would love to take on Thor's Hammer given the chance.
Her curiosity overrides fear- example: she is fascinated by the Roomba. I think it blew her mind the first time she saw it running around. She ran right up to it, where most dogs leave the room.
Her endless ability to amuse herself with toys indicates she could be a good only dog.
Still working on:
Brynn is still working on her walking skills- she just wants to go, she pulls, and she is strong. She would like to chase waterfowl, but has been good about it.
Her overzealousness to play constantly can be annoying to the other pups, and stealing of toys has got her reprimanded a few times. It can be a distraction for her when it is potty time/ bed time etc.
She is a bit of a boundary pusher. She is very smart, and very observant, if you tell her NO, and you turn your back, don't be surprised if she tries to sneak behind you.
She knows "Come" but only does if she wants to! Treats work every time.
She likes to play bitey face, and this rougher form of play is sometimes carried over to the people. For example, she will nibble your hand when she gets really wound up. This could be a little much for little ones.
All in all Brynn is a great dog. She has this sweetness about her that is wrapped up in the playfulness of her energy. I imagine her to be a bit of a "Me and My Arrow" type. I get this feeling she is looking to be a sidekick, and go on lots of adventures with her human. She is not your typical grey, in that she does play fetch, does a bit of guard dogging, and her energy just doesn't stop. If you feel up for an adventure, stop by and meet Brynn, she will steal your heart.