In Memory Of...
You may submit your memorial along with a minimal $25 donation by clicking here.

In memory of Turbo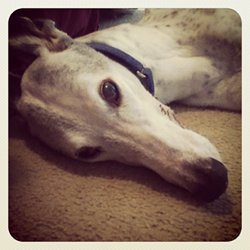 On Friday, April 12, at the old age of 14 1/2, Turbo crossed the Rainbow Bridge. Beyond the Rainbow came to our home, and Turbo was surrounded by the entire family as he made his way across the bridge.
Turbo was our "boy" for almost 13 years and we will always cherish our memories with this special boy. It is time to go run and play with Blueline now, and we will see you again some day, our sweet, sweet boy.
We will always love you, Turbo!

Love, Clay and Stephanie Mullin, Rider, Fairbanks, and Mozambique
In Memory of Sylvia Johnson
From Wayne and Evelyn Williams
In Memory of Sylvia Johnson
From Ellen & Nell Smith; Stephen & Hally Smith; Sid & Scharlotte Mendoza & children
In Memory of Jet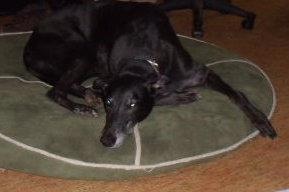 Jet was a sweet boy who was adopted at 6. He was a return from an elder couple who could no longer keep him. He settled in with Mary and Allen and was greatly loved! He loved having his feet rubbed. He is now running free with Mayor and Elwin. Our deepest condolences go to the Middletons. May you have happy memories of your beautiful black shiny boy.

- The Tyler GU volunteers
In Memory of Dirk Robarge
My husband and I adopted our first greyhound from your organization 3 years ago. I've always wanted a greyhound since I was little. We named him Dirk after our favorite Mavericks player. We fell in love with him instantly. Dirk immediately settled into our house. We left him sleep on our couches and bed (He was spoiled :-) ). Greyhounds are an amazing breed. Dirk taught me so much. Sadly, we lost our precious boy on 01/01/13 due to Leptospirosis. Be at peace Dirk.
- Cori & Jimmy
In Memory of Gigi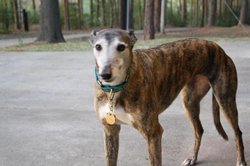 Roger and Margo Arrick gave Gigi a wonderful home full of love. Gigi came into GU with a group of Greyhounds that had been abandoned in a kennel facility. After this rough start, she had a life of smooth sailing, running in the huge beautiful field at the Arrick's home. This sweet brindle girl will be missed by all.
- The Tyler GU volunteers.
In Memory of Desperado and Spot
John & Debbie Sand
In Memory of Dorothy Pleasant
Dorothy was mother and grandmother to Laurie Moore and family in Abilene TX. She was a delightful lady who also loved the Moore's furkids, Fly and Boomer. She is finally at peace and without pain.
Ricky Polcer & the furkids, Tyler TX
In Memory of: Fonzie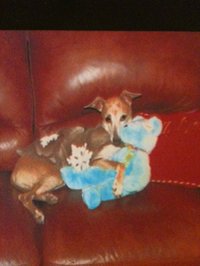 Dear little Fonzie came to our friend, Geneil from Partnership for Pets in Longview.He had an inner beauty that was hard to resist. The little guy had been through a rough life and was found as a stray.He spent the last three years of his life being loved and adored by his Mom. We will miss you, Fonz.
From: Your Aunties, the Tyler GU volunteers
In Memory of Machala
Adopted from GU seven years ago. She was a sweet, attentive and loving dog. She will be missed by the whole family.
Carolyn Reeves
In Memory of Faith Kelley
A sweet greyhound who loved her toys, her cozy beds, good runs, her buddy Mike and her mom Marcia.
Lana Kelley
In Memory of Gabbie
Carolyn, a donation was made in Gabbie's behalf.
- Kay and Howard Weinstein
In Memory of Wayne



You bravely fought your battle with cancer for so many years and never complained. You were always positive and cheerful. I have lost my friend. You are deeply missed.
Carole
In Memory of Ginger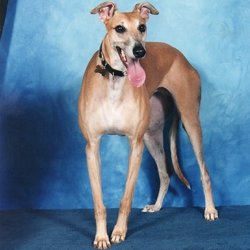 My "first" greyhound. I learned so much from you and got so much in return. Your endless patience with the fosters (and me) was inspirational. You were always the sweet girl that would run through the house with her squeaky toys . I had always hoped you would pick them up - but I guess that was my job.
Carole Clark
In Memory of Ella,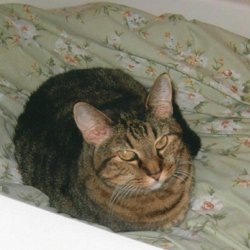 My sweet girl. I love the story of how we met. I went to the Vet to get heartworm medicine for the dogs and came home with a cat. You were the most mellow cat I had ever met and you never changed. You are missed.
Carole Clark
In Memory of Faith,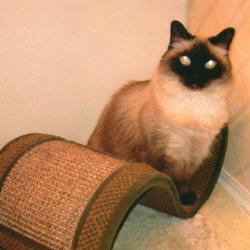 My beautiful and loyal friend. You found where I lived and moved your sweet babies there. That was so many years ago. You have left such a void in my life.
Carole Clark
In memory of Skinner and Kellher.
Pamela Freeman
In Memory of July McGuire
Sweet July, a rescue greyhound, and family member for over 12 years no longer is in pain and is waiting for her family at the Rainbow Bridge.
Biff and Neen Hatfield
In Memory of TIMMY
To TIMMY: Thank you for being a wonderful companion to my friend Stefanie and her family, Scott, Sofia & Stanley. They love you so much and cherished their time with you.
To Stefanie, Scott, Sofia & Stanley: I'm so sorry for your loss. My heart breaks for you. Take comfort in the love and wonderful life you gave to Timmy.
Shelley, Jeff & Brendan Speed