---
Greyhound Guardian Bracelet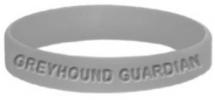 In greytful tribute to all who own, foster, love and care for, donate towards and work tirelessly for the benefit of these magnificent hounds.
This silicone bracelet, similar to the popular Lance Armstrong "Livestrong" wristband, available in greyhound gray and debossed with the phrase GREYHOUND GUARDIAN is a must for the greyhound lover in all of us.

Price: $5.00
---
Heart Pendant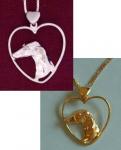 What more perfect way to let people know you love your pet. The heart represents love and the profile set within tells everyone it's a greyhound. Includes a chain. Style in Vermeil Only

---
Racing Greyhound Pin with silk

Wonderful, Fun, Racing Greyhound Pin with Silk is great for clothing, straps, anything you can pin something to.
Eight greyhounds race to the finish line. Black, white, light brown, and dark brown each wearing their racing silks.
Enamal pins measure 1 1/3" from nose to tail and 3/4" tall.
Limited availability - Only ONE per number, check the drop down selection box for availability.

Price: $5.00
---