Aaron
2.5 years old · Male · Fawn · Cat Tolerance Unknown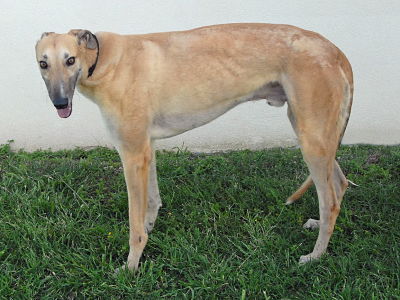 Bio
Hey there – my name is Aaron, and I am a perfect example of the greyhound breed! I'm sweet, loving and very laid-back at the age of two and a half. As you can see, I'm a pretty good sized youngster – both long and tall – and dare I say handsome, as well! My foster mom calls me an 'affection sponge', since my favorite thing is to stand beside you and soak up all the scratches, pats and kisses that you can dole out. Where ever you go, I'm with you all the way!
I get a little anxious if I am left alone, so I need other dogs to hang out with. I currently live with another foster grey and Lucy (she calls herself The Wonder Dog) who is a lab mix. We get along great! It's even better if my person can be at home some during the day. I'm very good about not making mistakes in the house and I will use your dog door if you have one. And kids, I love kids! Oh yeah, and toys – just love those things that make that squeaky noise!
I ride well in the car, enjoy being outside and like nothing better than a big bowl of kibble (AND marshmallows). Just have to say – I'll be your perfect companion. Come visit me at the next Meet and Greet in Tyler, or let one of Greyhounds Unlimited adoption coordinators know if you'd like to meet me. We'll do a road trip!!!!