---
The senior and special needs hounds currently in GU's care consume 6 to 8 cans of dog food per day and can incur additional medical costs.
If you would like to make a tax-deductible donation for our Special Needs Hounds in any amount you can either make an on-line donation by clicking the button below:
or mail your check to:
Greyhounds Unlimited
P.O. Box 703967
Dallas, TX 75370-3967
Please note "Donation for Special Needs Hounds" on your check, and make it out to "Greyhounds Unlimited"
Any and all support you give is greytly appreciated, especially by the hounds. You might also consider making a commitment to the Senior/Special Needs Fund.

< Back
---
---
Pasta: Stepping Out for Help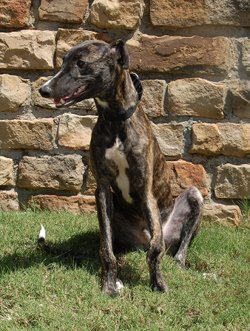 PLEASE HELP US HELP PASTA!!!
Pasta came to Greyhounds Unlimited on August 15th, 2012 from the Dallas shelter at the age of 5 months. He is a handsome, brindle boy with a severe deformity of his left front leg, involving the foreleg and wrist. Extension of his leg causes him a considerable amount of pain. He is currently being evaluated by our veterinarians to determine the proper course of action. The projected cost of his first surgery is over $3,000.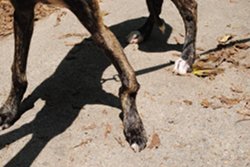 Pasta is a sweet, loving greyhound. He is always happy with high spirits and a tail wag for everyone. He believes the world is a good place.
If you have it in your heart to help this precious boy, please click here to send a contribution. Any amount, no matter how small, would be more than appreciated.
Let's show Pasta that he does live in a wonderful world and make his world a much better and happier place for him. It will make all the difference in his world!
---
November 12, 2012

Ranger has found his forever home with Randy and Julie S.
October 22, 2012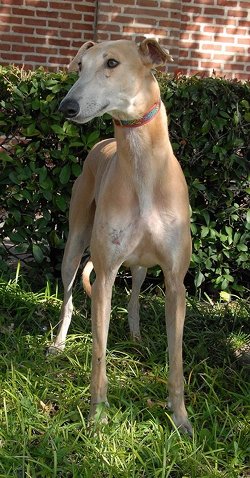 September 26, 2012

Ranger tested positive for Ehrlichiosis, a Tick Borne Disease (TBD). In addition to the TBD, he was heavily infested with parasites. His puncture wounds are healing. Ranger is currently undergoing treatment for the various health issues. He is tolerating the treatments and is responding well. He is eating and putting on weight.
September 14, 2012

We received a call from Officer Salas with the Everman Shelter around 9:00PM on Friday night. Someone had brought in a grey they found that been attacked and possibly shot and would GU take him? Of course we would take him.
One of our volunteers picked him up and took him to our vet. He had been attacked and his front end was chewed and punctured in several places. One of the puncture wounds was over an inch deep. Thankfully, he had not been shot. Since the wounds were several days old and badly infected, some were even found to have fly larvae inside the open sores; serious measures had to be taken.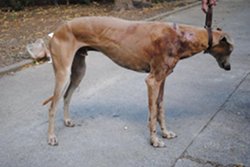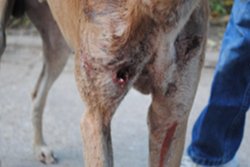 The wounds were scrubbed. Intravenous antibiotics were administered along with pain management. The vet did not suture any of the wounds due the contamination and infection, for the time being he has left them open to drain. His front legs and feet were slightly swollen.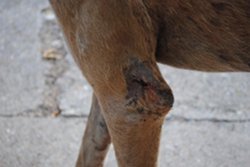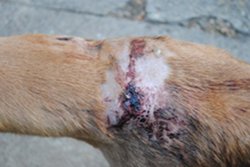 It has been a little less than a week and he will still not hold head up at normal angle because of swelling and damage done to the muscle from the puncture wounds. His wounds are being dressed daily. He is making small strides each day, he will get up when asked to go outside to relieve himself, he has started to eat a few kibbles on his own in addition to the cooked chicken that his foster homes makes each day.
We are very thankful to the kind individual who took the time out his or her day to bring Ranger to the Shelter, to the Everman Shelter volunteers who cared for him and then asked after him this week via our Facebook page, and to Officer Salas for making the call. Without these caring individuals, Ranger would not be with us today.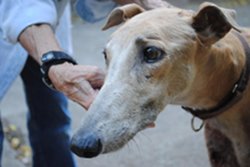 Looking into his soulful eyes...one can only imagine what this boy has endured.
---
March 11, 2012
Adopted by Danny & Denise S.
February 6, 2012
A note from Donnie's foster mom....
He has "mastered" the stairs, and being a bit more friendly with the rest of the gang. He's perking up and eating really well, so hopefuly will show some signs of gaining some weight. He's joined the others in looking out the windows, and we are taking some short walks in the AM to stretch his legs. Think he is looking pretty handsome for what he looked like a bit over a month ago :-)
January 26, 2012
Donnie is ready to go to his new foster home. He has undergone his heartworm treatment and has been altered. Strict rest for four weeks with limited activity - no running, no exercise, no back yard play. Short leash walks only.
January 10, 2012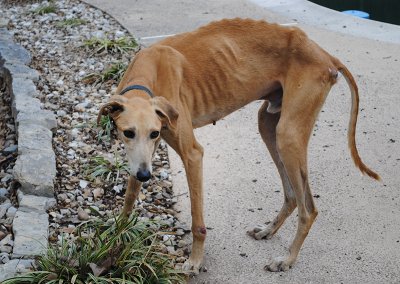 We received the test results back on the tick borne diseases, he was negative. We ran him to the vet today as he was running a temperature last night and was lethargic, he is fine. He received an iron injection and a supplement that can be added to his food for the anemia. He weighed in at a whopping 51lbs!
January 02, 2012
We have an update on Donnie from his medical foster home today. He is holding his own, but he is Heartworm positive. His tests for Tick-borne diseases have not come back yet. As is common with emaciated and tick-infested dogs, he is severely anemic and being treated for that.

Donnie weighed just 31 lbs when he was turned over to us by Animal Control. Based on his bone structure, he should... weigh around 65-70 lbs. He has already gained 3 lbs with all the special care he is receiving, which is a good sign.

And on the brightest note of all, Donnie has begun to show more interest in his environment, now that it is safe and warm and full of food and love. His foster home reported that they found him watching them in the kitchen while they were preparing his meal. He already knows where the goodies come from!

Although it will be slow, we continue to look forward to Donnie's recovery. It brings us joy that so many of you have him in your thoughts and prayers helping him along to his new beginning."
December 30, 2011
This article was to be one of reflection...however, while in the process of finalizing the enews, we received a request from a shelter for immediate help for a greyhound that was found on the side of a road. "He is very emaciated though he has been eating and drinking", "Any help you can provide would be greatly appreciated".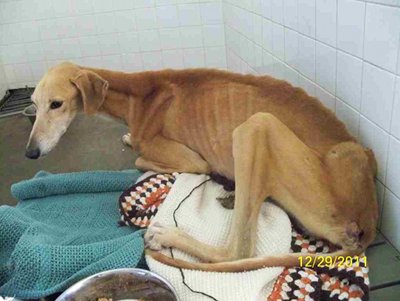 So, I hit the delete button and started over...

2012 is around the corner, and as some reflect on the past year, we look forward to the start of the new. The start of a new year brings with it a sense of fresh beginnings, a new dawn dawning, and hopes for the future. This is what we, we at GU strive for everyday…to give the hounds such as Donnie, a new beginning, to erase all those bad memories from the past and to move forward.

They say a picture is worth a thousand words, or a picture tells a story just a well as a large amount of descriptive text...The picture that was attached to the request (see above) was heartbreaking, but when our volunteer picked up Donnie (aka New Dawn) it did not tell enough of the story…not for Donnie. So, here are a few more pics of our little Angel. It truly is a New Dawn, for Donnie and those of us at GU.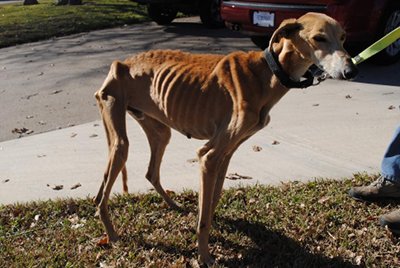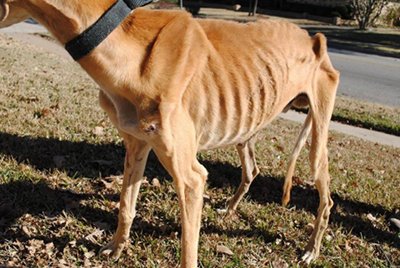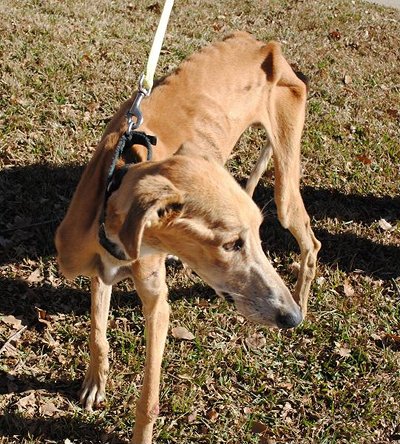 ---
Not 1. Not 2. June 30, 2011 marked the 3rd seizure since July of 2010 of malnourished, questionably sheltered, undoubtedly tick, flea and parasite infested greyhounds by Fort Worth Animal Control in the same area. This time, four greyhounds were seized from an abandoned property when an observant government employee noticed something amiss. Upon further investigation, the employee found four greyhounds in makeshift enclosures and called FWAC. FWAC cruelty investigators took 2 female and 2 male greyhounds, as well as a pit bull from the property in the 76105 zip code.
FWAC contacted GALT to take the hounds and was able to release the hounds immediately into GALT's care due to the city of Fort Worth drafting a temporary custody agreement with GALT to circumvent the 72 hour hold rule. GALT contacted GU for assistance and GU quickly took two of the four greyhounds into our care.
GALT has requested an official investigation into these seizures to be conducted by Ft. Worth Animal Control and GU will help any way it can in the investigation. In the meantime, GU is concentrating on returning our two refugees to complete health and getting them into forever homes.
---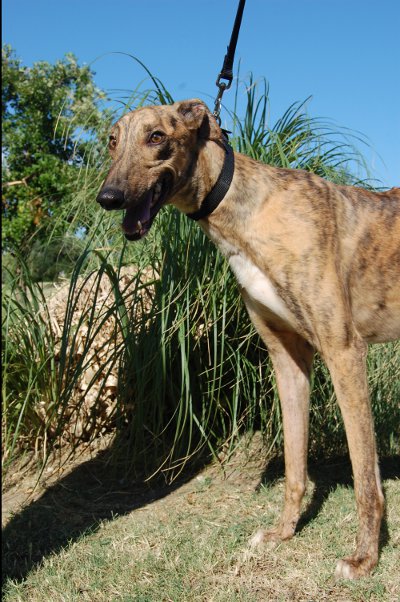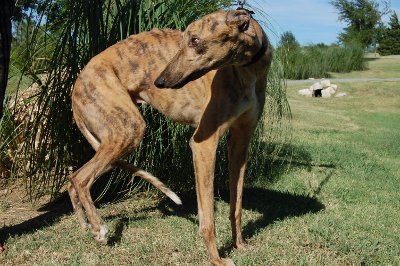 July 11, 2011
Jack (aka Ahk Jack Jaxon), 2 year old brindle male
Jack tested positive for two different Tick Borne Diseases (TBD); Ehrlichiosis and Anaplasmosis. He is anemic. In addition to the TBDs and the anemia, he tested positive for Giardia, even though hooks were not identified in the first stool sample it is at the recommendation of our vet he be treated as if he did. Both Jack and Puff's have skin problems where parts of their skin just "peels off". Jack is currently undergoing treatment for his various health issues.
---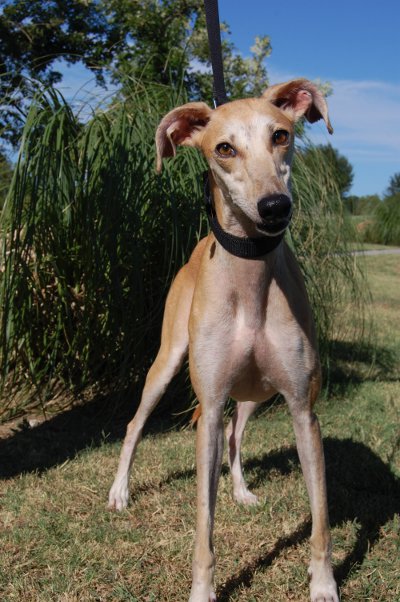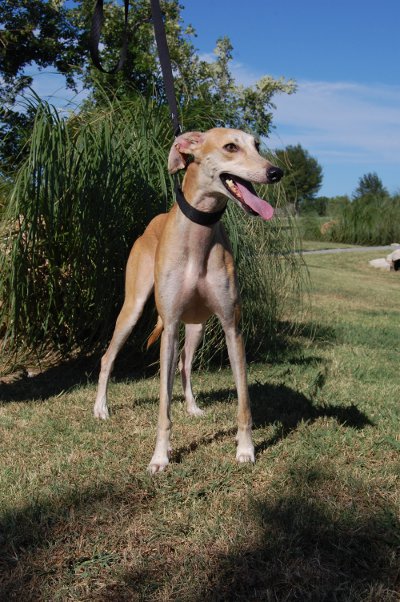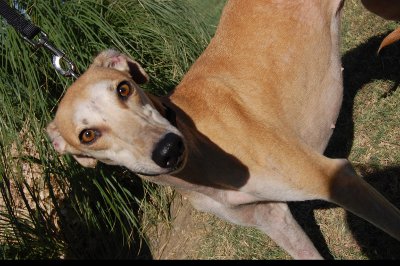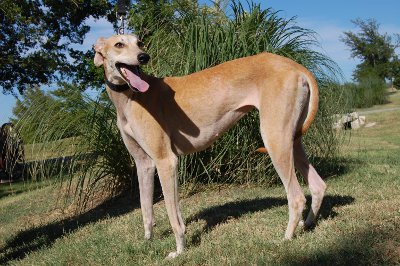 July 11, 2011
Puff, 1.5 year old red female. Puff tested positive for two different Tick Borne Diseases (TBD); Ehrlichiosis and Anaplasmosis. She is anemic. In addition to the TBDs and the anemia, she tested positive for Giardia, even though hooks were not identified in the first stool sample it is at the recommendation of our vet he be treated as if he did. Both Puff and Jacks have skin problems where parts of their skin just "peels off". Puff is currently undergoing treatment for his various health issues.
---
The following are pictures the cruelty investigator took when she found the hounds: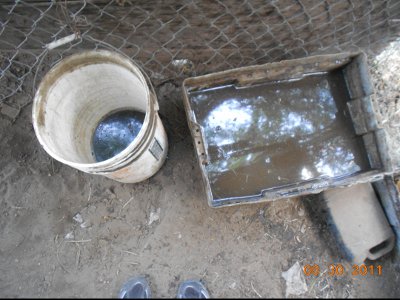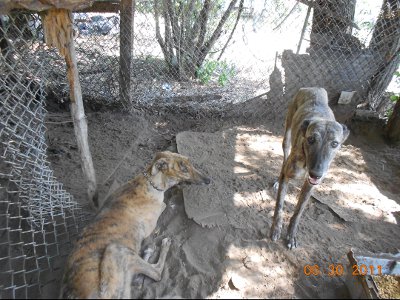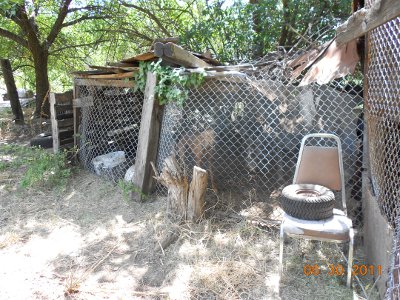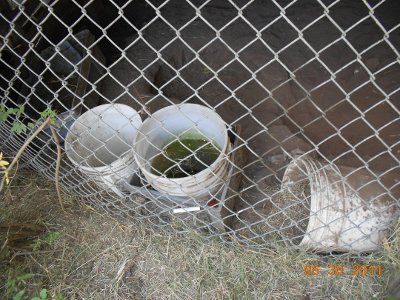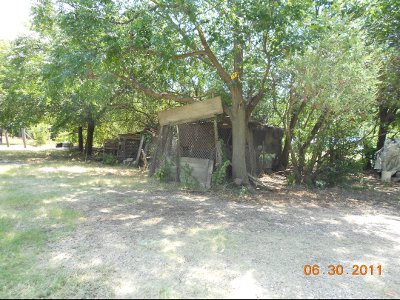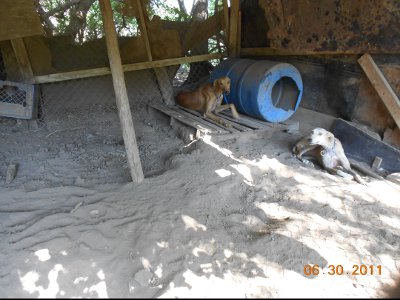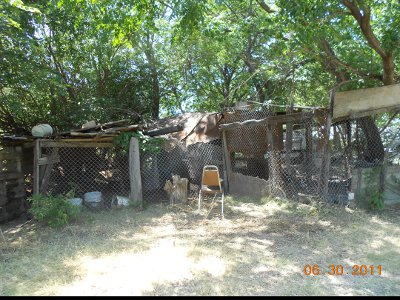 ---
Susan, GU's Christmas miracle...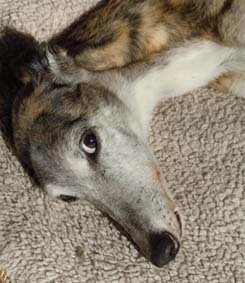 Susan came to GU from a local animal shelter. The shelter workers named her Susan because not only can she now believe in miracles - she is part of the miracle just like "Susan" in Miracle on 34th Street. She was found under an auto one morning and was taken to Animal Control. She was so starved she couldn't stand or hold her head up. The personnel at the shelter had her looked at by their veterinarian. Then they cared for her during the 72 hour hold period required by the state. When the required time was up they called GU and Susan was carried to our veterinarian to continue her care.
When she came to GU, Susan was unable to stand by herself, could not prop herself up on her elbows, or hold her head up to eat. Even after 7 days of around the clock care, she is able to stand on her own but only for a brief moment. She will rise with help and lean against her helper to keep from falling.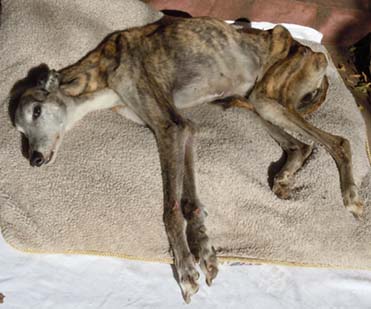 She is being given nourishment every two/three hours. Susan weighs 36 pounds and is 9 1/2 years old. She should weigh about 65 pounds. She is infested with hook worms and has started treatment. Results on her blood tests for tick borne diseases will be forthcoming in the next few days.
Susan has large, beautiful dark eyes. Since she can't raise her head, she follows with her eyes. Occasionally she will wag her tail but that saps a lot of her energy. Her racing identity cannot be verified because it appears the numbers have been double tattooed.
The pictures standing were taken 7 days after being fed and watered approximately every 2/3 hours. Susan is a fighter and is expected to recover but it will be a long road for her to travel to full health once again.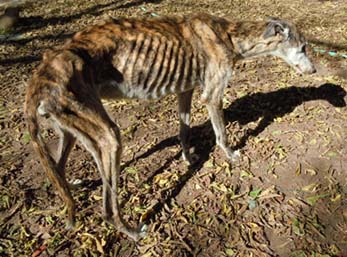 Our heart felt thanks goes out to the individual who found Susan under the car and took the time out of their busy day to get her to the great individuals at the Everman shelter who then called GU…we have our Christmas Miracle.
---
On Thursday July 8th, 2010, a rescue of what was thought to be 14 greyhounds took place in south Ft. Worth. When Ft. Worth Animal Care & Control arrived to pick up the hounds, it was discovered that there were actually 28 hounds, desperately in need of help. They were living outdoors in crates stacked on top of each other with no food or water.
Greyhound rescue was contacted immediately. The dogs were in very poor condition. They were covered with ticks. They were bone thin and many had pressure sores all over their bodies. Greyhounds Unlimited and GALT worked together, dividing the greyhounds between the two groups. GU took 8 hounds into their care:
GALT took 8 as well.
The TGA (Texas Greyhound Association) was also involved. Many thanks to them and FWACC for their help in this desperate situation.
More details about this rescue will follow as soon as we have more information available.
---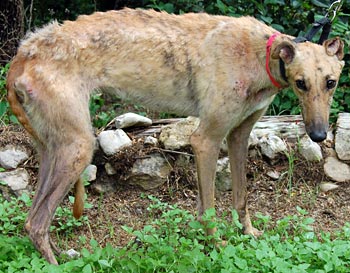 Shyla (aka Kiowa Rumble Rei), 2.5-year-old brindle female, cats TBD
Greyhound Data provides information about greyhounds from all over the world with pedigree information drawn from the last four centuries. Click here and you will find the pedigree, the littermates, and the races of Shyla.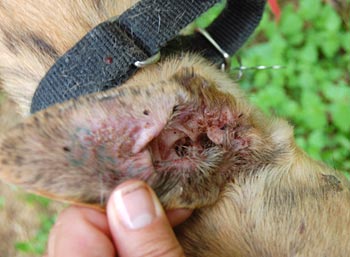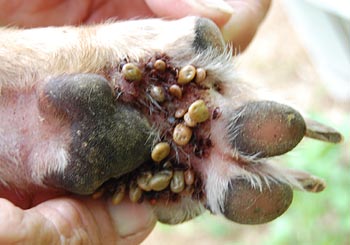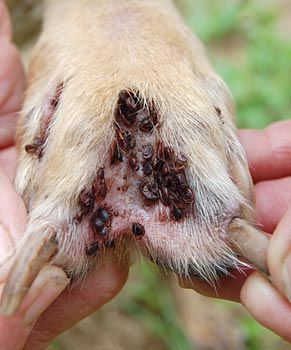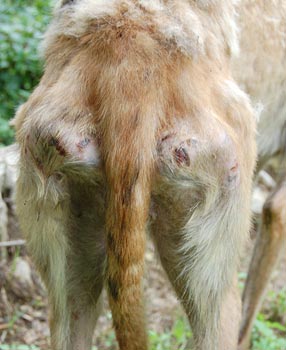 August 29, 2010
This has been a pretty quiet week -- notice in my picture, I'm just enjoying life :-) Went to the vet on Thur -- got the second Imizol shot, the stool sample was clean and I weighed in at 61.2 lb -- wooo hoooo !!! Vet was so impressed with how I've come along -- said I didn't need to come back till I finished up the Doxy and we do another check. Then we'll look at spaying me -- that's it for this week!
Hugs and Slurps,
Shyla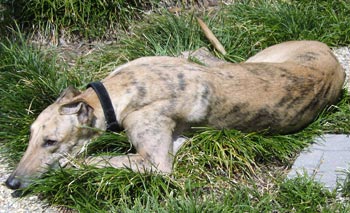 August 22, 2010
Mom said it was time to update you again - time sure flies when you feel better. Last weekend, I was finishing up that 3 days of Panacur for the whipworms and didn't feel too good. However, once that got through my system, I started perking up - you can tell by my pictures that I am really looking like a fine little girl :-) I still need to put on some weight and I'm working on that. Mom just had to get the pix of me on my bed with those cute toys - I had put them there and laid down next to them. They are from the FWACC 8's new friend in New York, Aquitaine - thank you again, Aquitaine! That's about it for this week. Next week mom is taking in another poop sample to check for the worms (they'd better be gone) and I get my second Imizol shot.
Till then -
Hugs and Slurps,
Shyla :-)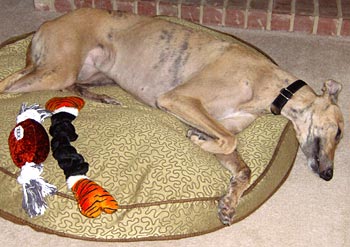 August 15, 2010
Well, it's been 3 weeks since you've had an update about me. Foster mom said I am doing well enough to speak for myself and catch all of you up to date on what's been going on.
The last week of July was pretty rough. I was up and down and up and down. Guess that was to be expected with all the "stuff" I was taking to get better. I ate, I didn't eat, I felt good, I didn't feel good. I wasn't sure what was going on because I had accidents in the house and was so very embarrassed. Mom was really good about not fussing at me – she knew I couldn't help it. Then on 29 July mom noticed my poops were really dark and soupy. So on 30 July, she took a sample to the vet – we wouldn't get the results till Monday. Then later in the afternoon, I had eaten some crunchies, and promptly decided to upchuck – mom didn't like the looks of what came up, so she ran me into the vet. I must say, I realllly like this vet – he is soft spoken and checked me over so very gently, even though I didn't like it when he took my blood. I weighed in at 52 lb, so that meant I had gained from 47 lb when mom got me on 18 July. So for this visit: he gave me a shot of Cerenia (to help settle my realllly upset tummy) and another of Dexamethasone, to help my appetite. I also came home with more pills to help the appetite and the tummy. I have to tell you, mom was super worried about me that weekend.
August 12, 2010
I had my first Imizol injection – that was for the third tick disease, Babesia. Another weight check: 58.5 lb! We also did another stool sample check and it came back with a very small amount of whipworm, sooo here we go with another 3 days of Panacur – this time it was powder so mom mixed it in peanut butter – now that got my attention and I ate it right up. The vet said it would be OK to get my rabies shot now, so that's taken care of. And, I'll continue the Doxy for the other two tick diseases till at least mid-September.
I am playing with the new toys a wonderful donor sent, enjoying some yummy canned food another sent, and someone also gave us some Omega-3 for our skin and coats. I haven't had any accidents in many days :-) ElleMae has been a wonderful mentor to me – she knows I have been really sick and is helping mom get me better. She's also teaching me how to have fun playing with the squeaky toys, how to enjoy treats, and how super those morning walks are. I'm learning that nice, soft beds make for long, dreamy naps and that being in a home with lots of love and care is wonderful. Mom says there are a lot of people out there who care about us and how we are doing. So, even though this was awfully long, I wanted to let you know what's going on with me and to say thank you for everything :-) Mom is sending along some pictures from this past week – you can tell I am not the same pup that was found on 8 July.
Hugs and Slurps,
Shyla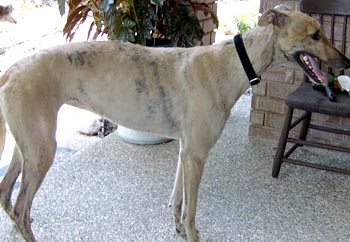 August 2, 2010
I was due to start my second round of Panacur for worm treatment, but was waiting for results from the Friday sample. It was positive for hookworm and roundworm, so I went on 5 days of the Panacur. I have to tell you, I really don't like that stuff – it affects my appetite, but mom fooled me by putting chicken broth on just about everything she could to make me eat. Well, it worked – I did eat a bit better. My greyt foster sis (ElleMae) had her annual checkup on 5 Aug, so mom took me along for a weight check – up to 55 lb – so I am doing pretty good adding some weight, but mom was still worried that I might not be eating enough, so the vet gave me some FortiFlora – it's like Activia for people and good for my tummy. I am starting to feel better.
From foster mom: Shyla is a shy little girl with the sweetest personality. She emulates just about everything that ElleMae does, which is good! She has the cutest helicopter tail wag that goes and goes, and loves to give hugs and kissies. Her skin has very little flaking now and there are only a couple small spots of sparse fur – she loves to be brushed, have her ears cleaned and doesn't even mind when I trim her toenails. When we go to the vet, she hops right into the van and lays down for the entire ride.
July 25, 2010
Shyla is doing well. Her little system really balked at the Panacur, so had to give her some pepto to keep her from eating the mondo grass, then upchucking it :-) Now that we are on the "10 days off it," her system is doing much better - she's a perfect free-feeder, probably because her stomach had shrunk so much that she doesn't eat a lot at one time, but munches along. I may be "seeing things," but I think I actually see less of those tail and hip bones. Her little personality is so very sweet and we've seen several folks this week who have asked about her. She's been a very good little ambassador for the hounds - as well as ElleMae!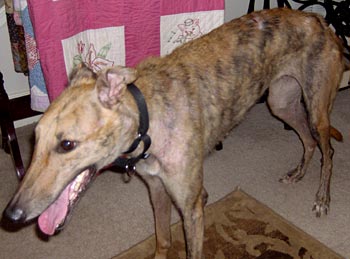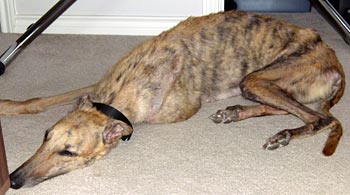 July 17, 2010
Shyla's first day in foster care...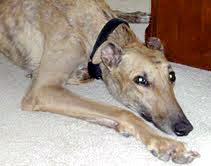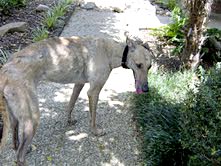 Ok, we're home and here are the initial pix - not too pretty, but a reference point for when we can look back and see how much improvement has been made. She has found her spot up here in my computer/sewing room, seems to be doing well with Miss ElleMae (who has figured out that this girl needs lots of love and care) and is not bothering her. She has given kisses and wags her tail like she knows everything is going to be just fine now.
July 12, 2010
Shyla tested positive for three different Tick Borne Diseases (TBD); Ehrlichiosis, Babesiosis and Anaplasmosis. In addition to the TBDs, she was positive for hookworms and Giardia. Shyla is being treated for the Ehrlichia and Anaplasmosis. She will start treatment for the Babesia when she is in better health.
---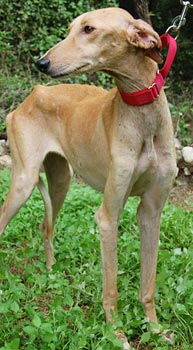 Meg, 1-year-old fawn female, cats TBD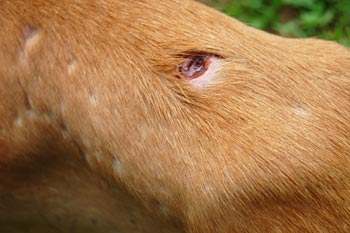 September 9, 2010
From Meg:
Mom says I have to do my own update this week.
Last night I took the last of my pills and today I get the last dose of pancur(YUCKY). I don't like it when Mom gives me that. I am still getting some of those wart thingys but they aren't bothering me so Mom is just keeping an eye on them.
I really like it here. Plenty of food and fresh water and even better, lots of room to run and play and soft beds to sleep on. And no fleas, ticks, or crates. My BIG brother Luxor and I try to play all day but Mom keeps stopping us. She says we have to stop biting and that I am supposed to wait until my stitches come out. What's the big deal with these stitches? Okay, so I popped a couple and had to get staples. All I want to do is play with Luxor. Anyway, I finally get my stitches out tomorrow (Friday, September 10). I can't wait.
Mom says I am getting a bath once the stitches come out so that I am extra clean and soft for something called a reunion. No idea what that is but Luxor gets to come with me so I know it must be OK. I don't really like baths. Lux is getting a bath too so this reunion must be something extra special.
Did I mention that I don't like my feet being touched. So what does Mom do? She touches my feet all the time and I have to admit it is not as scary as it used to be. She also brushes my teeth. Not crazy about that but it still beats having my feet touched. I do love being brushed and petted.
I really like my 2-legged brother Adrien. He keeps saying he wants me to sleep in his room but Mom says no because he too many little things for me to chew up. Geez, just clean it up already....
I hope the rain stops soon. I want to walk with Adrien to school in the mornings. I was really enjoying those walks but then Mom had to go and get me spayed and have the little wart thingy removed (thus the stitches) so I was not allowed to go for walks. Just as I was thinking I would get to go again, it started raining. We did go to something called a Farmers Market. That was kind of cool. There were lots of people who asked if they could pet me and Luxor. We also went to a Meat and Greet. There wasn't any meat; just a bunch of other greyhounds and boy were they nosy. I didn't like that at first but once I got to know some of them, I started enjoy myself a bit. Mom says we will go to more of those so I get used to being around other dogs.
That's it for this week.
Meg
August 25, 2010
Meg got a clean bill of health at the vet today. They said maybe she could use another couple of pounds, but she is otherwise completely healthy. She got her rabies shot and is ready to be spayed.

She is now 45 pounds of spunky, happy Greyhound. She has springs for legs and pounces on her toys like a cat. She and Luxor literally chase each other around the house and yard. She is definitely still a puppy. She got into the trash the other day and oh what a mess, but she was so proud of herself that I had to laugh as I was grumbling and cleaning up the mess. It is hard to stay angry with such a happy face. She still doesn't like having her feet touched, but we will keep working on that.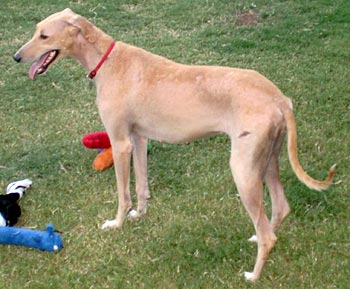 August 23, 2010
Meg is continuing to improve. She is pouncing on her toys like a cat on a mouse. She has an appointment at the vet tomorrow so I should have a more complete update later in the day.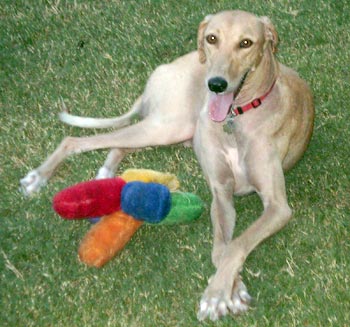 August 10, 2010
Just back from the vet. Meg now weighs 44.2 pounds, up from 36.9 two weeks ago. Got her second Imizol shot. Her blood platelet count more than doubled but still needs to get a bit higher so she gets to continue the Doxy for another 2 weeks and they doubled the dose. Has some meds for ear mites. She got her nails trimmed. Very traumatic for her as she doesn't like her feet touched but they look so much better, and I am sure they feel better. She goes back in two weeks for another check-up and if all is well, she will get her vaccinations and they will decide if she is ready for her spay.

Overall she is continuing to improve every day. When she arrived she had no idea how to play or what a toy was. Now she and my Grey, Luxor, play off and on all day long. She steal toys right out from under his nose. They love to play tug-o-war. She is housebroken with a dog door.

She has also discovered the joys of chewing, so chew toys have been added to the toy pile. She sleeps very nicely on her dog bed or on the carpet in my room. Right now she is sprawled on the nice, cool tile by the front door. Last night she figured out how to get up on my bed and was quite disappointed when I told her to get off. Counter-surfing and dumpster-diving are also favorites, but we are working on those.

The goal for the next two weeks is to learn about having her teeth brushed and getting used to having her feet handled (although I suspect this is going to take a long time).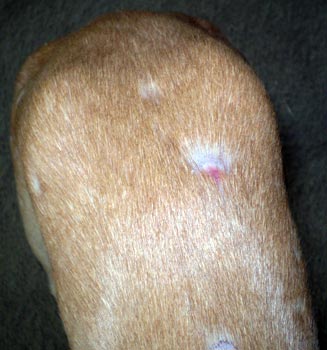 July 29, 2010
From Meg's foster mom...
We picked up Meg on Sunday. The trip home and her introduction to our big beasty boy, Luxor, were pretty uneventful. Once she was settled in, she took a good nap and had some water but she wouldn't eat. Monday came and went. She still wouldn't eat and spent the day sleeping. Tuesday was a trip to the vet for some fluids, tummy meds, and steroids to perk her up. That night, she was picking at her food so I took the vet's advice and skipped her evening dose of meds to give her stomach a chance to settle down.
Wednesday started out as more of the same, just barely picking at food. But oh what a difference a few mouthfuls of food and a couple of hours made. Came home from dropping my son at camp and was met by two wagging tails and smiling faces. So I gave her more food and she gobbled it down. Couple of hours later I repeated the exercise and she ate it even faster. Wednesday evening...we went out in the yard to take a potty break. I threw a toy for Lux and she started to chase it. She wanted to play but Lux had to go and mess it up by barking at her. She went after him with bared teeth. No harm, no foul, but it was pretty funny to watch little Miss Meg chasing Luxor. He is easily double her weight and a good 7 inches taller. She definitely has spunk.
She has practically potty trained herself, only two accidents. The trash can now has a nice secure strap on it as she thought dumpster diving would be a fun hobby, and she is trying to counter-surf. I will gently but firmly break her of that before it becomes a habit. She tried to beg at dinnertime but gave up when she got no response.
It is safe to say she is feeling much better, and I suspect we will have a little spitfire on our hands in the future.
Trish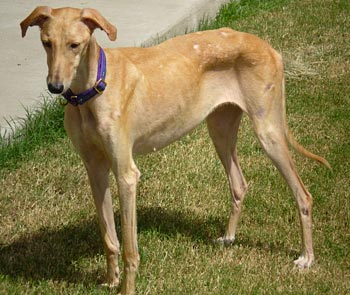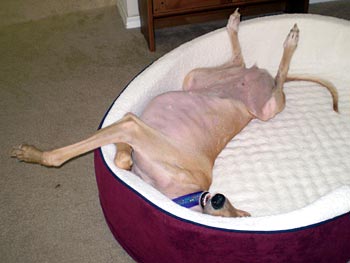 July 27, 2010
Meg has not eaten in a couple of days but is drinking water. Her foster home offered her some home-cooked food but it didn't interest her. Later, Meg threw-up a small round object, and she was taken to North Plano Animal Hospital to be checked out. The object could not specifically be identified - it appeared to be a disk-like object and would crumble when applying pressure to the object. It was determined Meg possibly was having trouble with her system trying to fight the tick-borne diseases which can cause Hemolytic Anemia. A corticosteroid was administered to help control the Immune Mediated Hemolytic Anemia (IMHA) - one of the positive side effects of a steroid is increased appetite. She also received subcutaneous fluids and meds to help calm her stomach.
July 12, 2010
Meg tested positive for two Tick Borne Diseases: Ehrlichiosis and Babesiosis. In addition to the TBDs, she was infested with parasites. Meg is currently being treated for the Ehrlichia. She will start treatment for the Babesia when the veterinarians deem she is healthy enough to undergo treatment.
---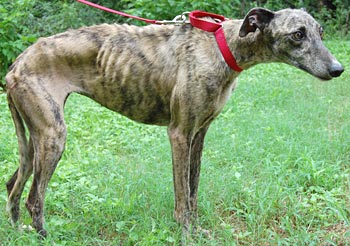 Ivy, 3-year-old brindle female, cats TBD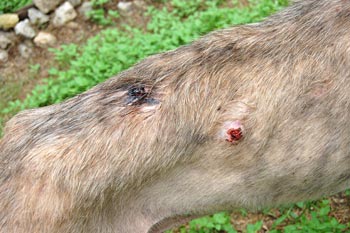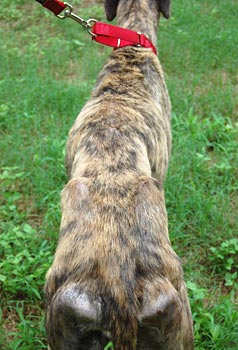 August 30, 2010
Since our last update, Ivy has received both of her Imizol shots to combat the Babesia, completed her round of Doxycycline for her Ehrlichia, and has been treated for tapeworms. She is now undergoing treatment for heartworms, which consists of two shots of Immiticide 10 days apart. X-rays taken before her first heartworm treatment showed congestion in her chest, believed to be an inflammatory response to the tick-borne diseases. She also has an enlarged heart as a result of the heartworm infestation. She is being treated with oral steroids for this, and also to increase her appetite, which continues to not be where it should be. She is being monitored closely by her foster mom.
Ivy is being given lots of love and attention by her foster family as she heals. She continues to be quiet and shy, but that probably has a lot to do with the heartworms that are still in her system. She has begun to play with toys and interact with her foster brother and sisters.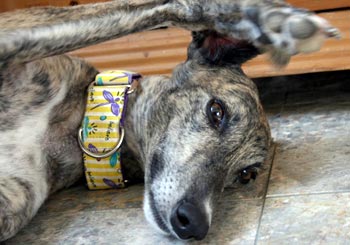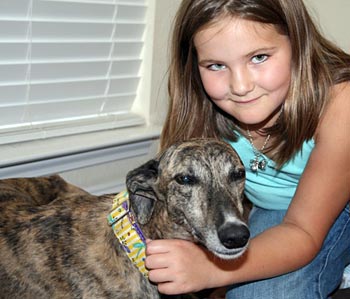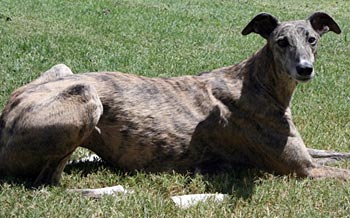 July 28, 2010
From Ivy's foster mom...
Ivy is doing better now! She is a shy little girl but comes around quickly. She adores my children and the other dogs in the house, including the little dogs.
We are continuing to cook for her. Yesterday we did some boiled chicken and noodles with the kibble. She is starting to look healthier. Her face just looks like she feels better. We are working on the counter surfing (she thinks everything on the counter is a snack for her!). She is a total love and a joy to be around.
She received her first Imizol shot yesterday for the Babesia and today she is seeming a bit tired but she ate breakfast and took her other meds just fine. She will have to have another shot in two weeks, and will be treated for the intestinal parasites again next week as well.
Her foster family continues to keep a close watch on her to make sure she is on the road to recovery.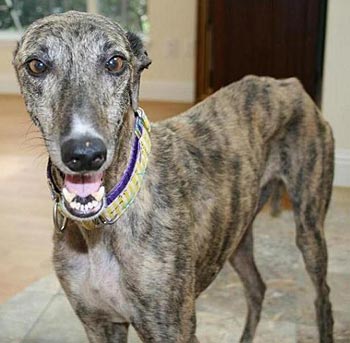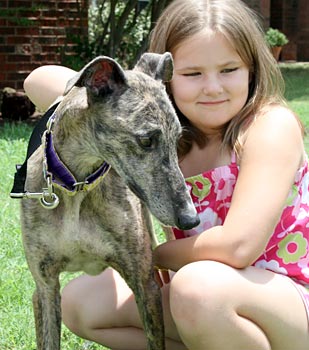 July 23, 2010
Ivy has taken a turn for the worse. She is lethargic, appears to have a temperature and will not eat. Her foster home contacted a GU representative to report her state. It was determined Ivy should go immediately to NPAH . At the time of exam, Ivy was showing signs of being debilitated - not only was she dehydrated, she was running a temperature of 102.9 and possibly having trouble with her system trying to fight the tick-borne diseases which can cause Hemolytic Anemia. A corticosteroid was administered to help control the Immune Mediated Hemolytic Anemia (IMHA) - one of the positive side effects of a steroid is increased appetite. She also received subcutaneous fluids. Her foster mother was sent home with strict instructions to watch her closely through-out the weekend for any adverse changes in her condition. Beth, her foster mom, started to prepare a special "goulash" for her of ground beef and eggs and kibble. Ivy decided her goulash was too good to refuse and has been eating better now. Thanks to Beth and her quick responsiveness, Ivy has turned the corner from this set back. She will continue to be watched closely.
July 12, 2010
Ivy is Heartworm positive and has tested positive for several Tick Borne Diseases: Ehrlichiosis, Babesiosis and Anaplasmosis. She is severely anemic. Ivy is currently undergoing treatment for the various health issues with the exception of the Heartworms. She will undergo treatment when the veterinarians deem she is healthy enough to undergo treatment.
---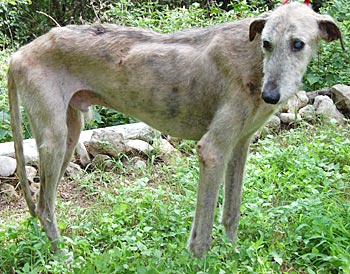 Miato, 1.5-year-old Deerhound, cats TBD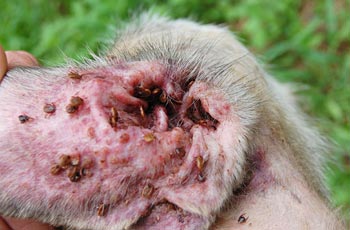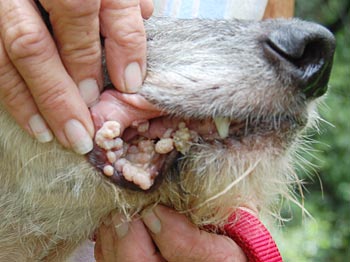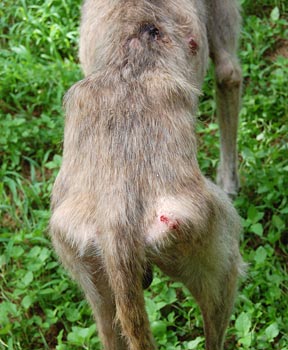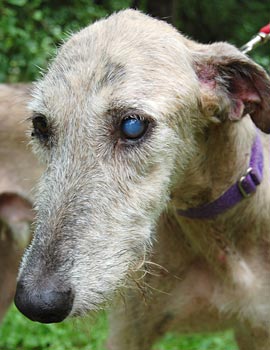 July 28, 2010
A young dog thought to be about three years old but has been re-examined by the vet and they seem to think he is around 1 1/2 years old. He came to his foster home wanting to do nothing but sleep and eat....then he began to feel the effects of food in his stomach. A few days later he was anxious to go outside and happy to see us. However, in less than a week's time he became lethargic again and had to be led outside and was not eating. Miato was immediately taken to the vet - there they administered a steroid injection as well as his first Imizol injection for the Babesia. Within a few short hours of returning home he was anxious to go outside. Now he has returned to the persona of a 1 1/2-year-old.....bouncy, happy when we come home, trotting around the yard, ready for food. He is tolerating his medication with no side effects. Miato sends this "thanks" to all who have expressed an interest in his health. His pressure sores are healing, tick scabs have almost all dropped off, and he will be a very handsome young man one day.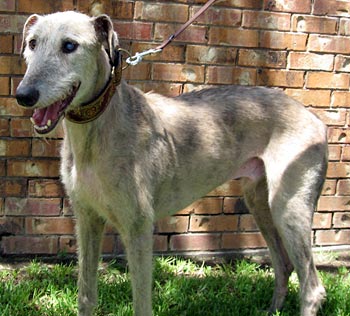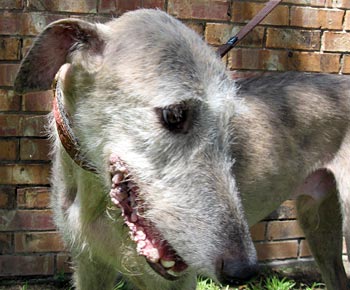 July 12, 2010
Miato tested positive for three different Tick Borne Diseases (TBD); Ehrlichiosis, Babesiosis and Anaplasmosis. In addition to the TBDs, he was loaded with parasites. Miato has started treatment for the Ehrlichia and Anaplasmosis.
---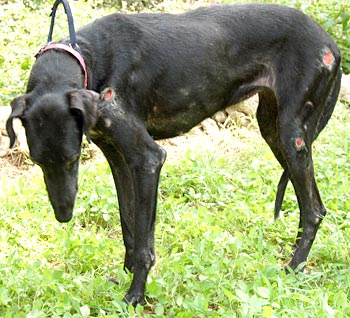 Nedra, 3-year-old black female, cats TBD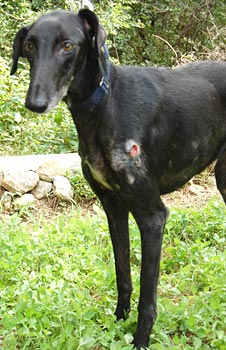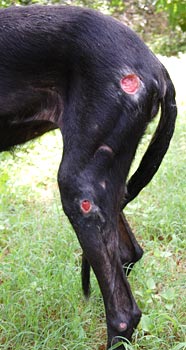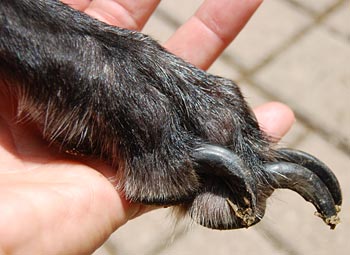 August 30 , 2010:
Nedra got her first Imizol shot to combat her Babesia on 8/18 and will receive her second shot tomorrow, 8/31. She continues on an increased dosage of Doxycycline for the Ehrlichia, which should end this week. Her skin, while not nearly as flaky as it was, continues to be itchy, so we are continuing with baths twice weekly with a medicated shampoo. She no longer smells like corn chips all over, and her fur is shiny and silky. She's still easily spooked by new things or fast movement, but she has begun to play and my dogs are beginning to invite her to play. I'm continuing to work with her to show her that the world is not such a scary place when she has someone beside her who loves her and wants the best for her.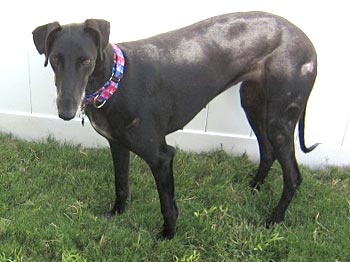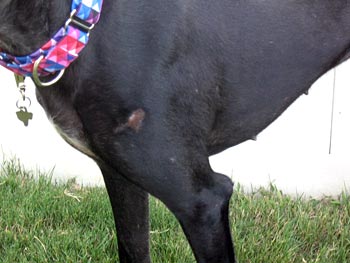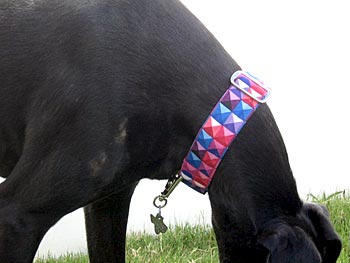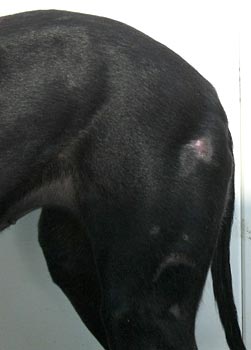 Update from Nedra's foster home:
Nedra is doing remarkably well, considering the life she was living just 3 short weeks ago. While she is continuing to receive medication to combat the Ehrlichia she has as a result of the ticks she had, she has not developed any new symptoms of this or any other infection to-date. She has had a good appetite from the day she arrived in her foster home. Her pressure sores are starting to heal. She's itchy because of all the tick and flea bites that are healing, and also because she has dry skin as a result of being malnourished. Her foster mom has some medicated shampoo that she will begin using on her and is adding olive oil to her food to help that as well.
Nedra is beginning to learn what it is like to be a pet and live in a house. She is having to learn some manners, such as waiting her turn to receive her breakfast and supper and to not butt in front of the other dogs to get treats. Little by little she is learning that there will always be a food bowl or a treat for her. She is also learning to potty outside instead of in the house because then she gets more treats.
She has found the big soft dog beds and happily curls up in them to sleep through the night, as well as nap during the day while her foster mom is working. When foster mom has to go out, or takes the other dogs for a walk, Nedra shows how happy she is that they came back by play bowing and prancing through the house greeting them. And just in the past couple of days, she has been experimenting with the new toys that her fans have sent to her. She will be a sweet companion for some lucky someone out there, once she is all healed and graduates from Becoming a Pet 101.
July 12, 2010:
Nedra tested positive for three different Tick Borne Diseases (TBD); Ehrlichiosis, Babesiosis and Anaplasmosis. She is severely anemic. In addition to the TBDs and the anemia, she was heavily infested with parasites and had pressure sores covering her body. The most common places for pressure ulcers are over bony prominences (bones close to the skin). Nedra is currently undergoing treatment for the various health issues. She is tolerating her treatments and is responding well. Each day we notice an improvement in her behavior (however small it may be).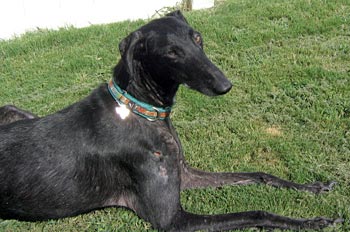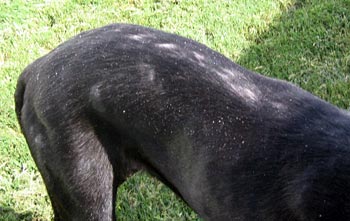 ---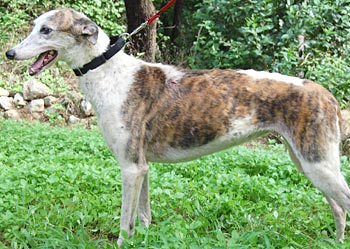 Iris (aka Kiowa Zapper Bea), 5-year-old white w/brindle female, cats TBD
Greyhound Data provides information about greyhounds from all over the world with pedigree information drawn from the last four centuries. Click here and you will find the pedigree, the littermates, and the races of Iris.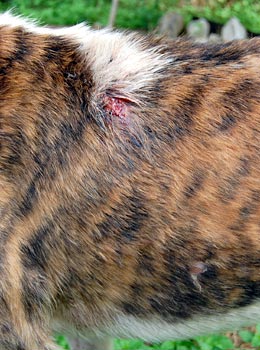 September 9, 2010
Iris appears to be fully recovered, weight now normal, ear mites are gone, finished with all the medicines, and her hair is fully grown back with a nice sheen to it. She now wants to jump up and greet me when I come back in the house and is starting to discover toys. She is very active and at times a real clown. She craves all the attention and when petting the other dogs she has to push through and say, "Hey, how about me?" She is an absolute sweetheart and has to sleep up against me in the bed. September 22 she gets spayed and her dental work done.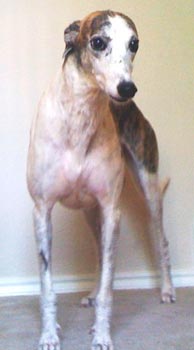 July 28, 2010
From Iris' foster dad...
Iris continues to improve daily and discovers new things she can do in her new life such as bounding up and down the stairs. Her hair is slowly starting to grow back in places, appetite is excellent, she's starting to fill out and all bodily functions are normal. Her energy level interacting with my other dogs, Molly, Dusty and Andy, is incredible. She has not had one mistake in the house and as yet has not tried to climb up on any furniture (I'm sure she'll learn from Dusty). She is a food surfer and had my sardine sandwich for lunch. Her affection towards myself and visitors is overwhelming. Her tail never stops wagging. She is tolerating all her medications well with no ill effects. This is one happy Greyhound who is so grateful to Greyhounds Unlimited!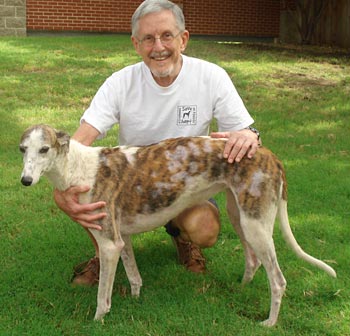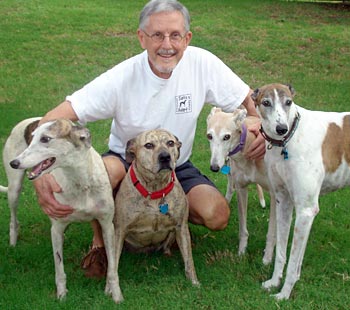 July 15, 2010
Iris has taken a turn for the worse. Just two days before she was to be moved to her permanent foster home she developed a nasal discharge. We consulted with our veterinarians and she was immediately put on a round of Clindamycin. The discharge has subsided and she has progressed well enough to be placed in her foster home, although she will continue to be monitored for further symptoms. Iris will need to get stronger before she receives additional treatment for her Babesiosis.
July 12, 2010
Iris tested positive for two Tick Borne Diseases: Ehrlichiosis and Babesiosis. Iris is currently being treated for the Ehrlichia. She will start treatment for the Babesia when the veterinarians deem she is healthy enough to undergo treatment.
---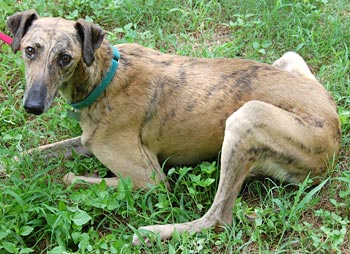 Icon, 3-year-old brindle male, cats TBD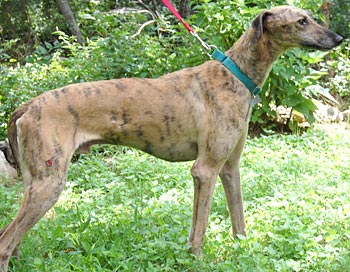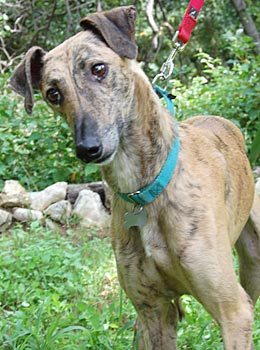 July 27, 2010
Icon's Foster family reports that he is progressing nicely. He is eating well, getting along well with the other dogs in the household, and has not had a single accident. The itching from the numerous tick and flea bites has subsided with an oatmeal shampoo bath along with the Fish Oil supplements he is being given.
Icon continues to take antibiotics to combat the multiple tick-borne diseases he has contracted. When he is stronger, he will need to undergo an additional treatment for the Babesiosis. His foster family continues to monitor him to make sure no other health issues due to his previous lack of care come up.
Quote from his foster family: "He is a very smart dog and is figuring out how the household works quickly."
July 12, 2010:
Icon tested positive for three different Tick Borne Diseases (TBD); Ehrlichiosis, Babesiosis and Anaplasmosis. In addition to the TBDs, he was positive for hookworms and Giardia. Icon is being treated for his various health issues.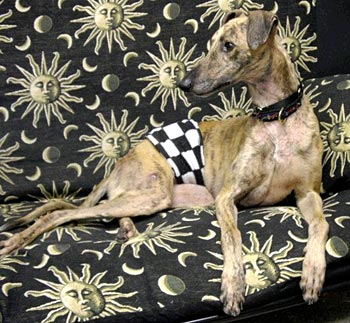 ---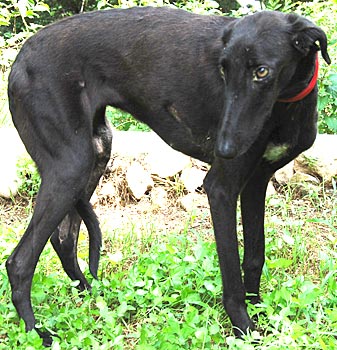 Neeka, 1-year-old black female, cats TBD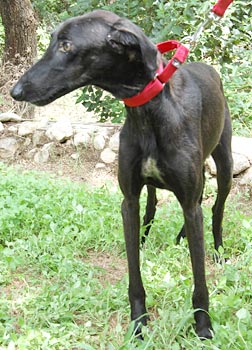 September 8, 2010
Neeka's foster mom writes: I just got back from taking her to the vet. She is being spayed today. She did not want to leave my side when they wanted to take her to the back. Of course, I got tears in my eyes and wanted to take her immediately back home. :-)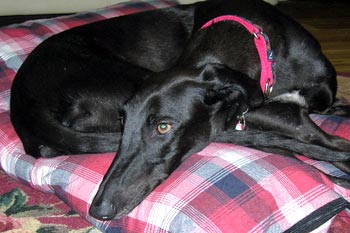 September 3, 2010
Neeka would love to thank those wonderful people that bought her a new doggy bed, a new blanket and her new toy! Neeka so enjoys waking me up early so she can go on her daily early morning walks! It appears she has a crush on a long haired German Shepherd named Truman. When she sees Truman in the park her tail starts wagging like a helicopter, and she starts herding me over to Truman.
I learned this week that she was a little nervous with the storm that came through. It was the first time a storm has come since she has been with me. She started pacing and having to be very close to me the whole time. I am sure this is due to the fact that she was kept outside and I am not sure if she had much shelter. But once I settled down in the family room close to her she quit pacing.
Neeka loves going for car rides. When I ask her and Merlin if they want to go bye-bye they both get very excited! When we have visitors at the house she is part of the greeting committee. She is a little shy but then she goes and says hello. Neeka politely waits her turn until the person greets her. Everyone that meets her falls madly in love with her.
Neeka is scheduled to be spayed on September 8, 2010.
Neeka really loves a routine. She insists on going for a walk when we first get up and then when it is time for night-night she wants another treat! She has learned certain words such as treat, walk, bye-bye, go potty, and night-night. She is such a smart little pilot angel.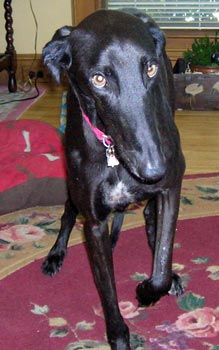 August 15, 2010
Neeka visited the vet this week. She has gained a few pounds. She now weighs 54 pounds. I came home with two more prescriptions for her. One for her eyes and one for her ears. So I have her on three different prescriptions per day. With her being so sick, she continues on improving and loves being spoiled. Neeka likes to lounge around or lies on her back with those long black legs straight up in the air. Neeka does have separation anxiety when I leave the house or she can't find me in the house. She loves being close to me, Merlin (her big Greyhound brother) or her two cat sisters! Neeka enjoys her treats and loves to be petted and loved on by me. Additionally, Neeka is now taking Merlin's toys and playing with them and she is doing the Greyhound play poise at times with me. It is amazing how each day she is blossoming more and more and I am seeing more and more her smiling!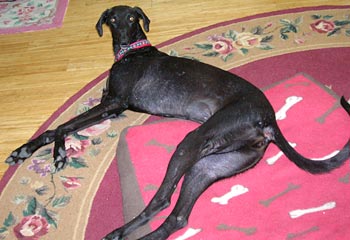 August 4, 2010
Neeka continues to improve. She loves lying around being treated as a princess. She lays a lot on her "throne" (doggy bed). She is feeling much better because she takes her pills and then looks me right in the eye and spits them out. Neeka is started to play more, and her tail is beginning to wag nonstop. Neeka won't go outside to go "potty" unless I go with her. It is like she is thinking, "If I have to get hot, so do you." Neeka continues to make me laugh and smile. The other morning I woke up to find her lying on her back with her long legs sticking straight up in the air. She is a pure delight to have in my household. She is a pure little angel. In fact, I think she thinks her name is Neeka Angel since that is what she hears me say all of the time when I am talking to her.
July 28, 2010
From Neeka's foster mom...
It has been one week since I got Neeka and - wow - has her personality changed. She is still a little timid, but each day gets better and better. At first, she did not know what treats were, a doggy bed,or a gentle hand. She is such a sweet girl. Neeka loves her doggy treats, and she is a little beggar. It is like, "I am so cute. Please give me a treat."
Neeka gets along great with my two cats, and when she walked in the house for the first time my Himalayan cat gave her a kiss on the nose. At first, her tail was in between her legs; now she trots when she is coming to me in the backyard and her tail is wagging! She loves to be petted and loved on. Additionally, Neeka is now smiling.
She loves to follow either me or her big brother, Merlin, around. Neeka is still unsure about toys. She loves to lay around on doggy beds. The only time she is in her crate is when I have to leave the house for a while. Boy, she does not like it at all. But as soon as I get home, she is thrilled to see me and immediately goes to the backdoor to go out.
I love having Neeka around; she is such a sweet, gentle girl and a true pleasure getting her healed from the horrible environment she was in. It will take time to get her completely healed, but with love and continued assistance from our veterinarians, Neeka is sure to make a full recovery.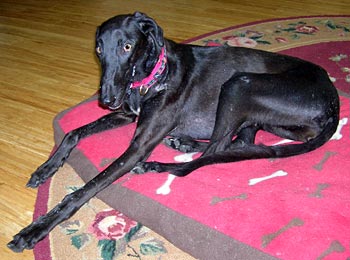 July 12, 2010:
Neeka tested positive for three different Tick Borne Diseases (TBD); Ehrlichiosis, Babesiosis and Anaplasmosis. She has a discharge coming from her eyes. In addition to the TBDs and discharge, she has a heavy load of parasites. Neeka is currently undergoing treatment for her various health issues.
---
And there were 11 more...

Breaking News Thursday August 12, 2010
Not more! Greyhounds Unlimited has just taken in five more dogs from FWAC in an unrelated case. GALT received information on Tuesday, August 10 reporting an address that had greyhounds in the backyard. The information was relayed to the Fort Worth Animal Control investigator working on the current case involving 28 dogs. FWAC went to the location on Wednesday and found 11 dogs on the property. The owner surrendered the dogs to FWAC. All of the dogs are tick-infested and underweight. All of the dogs GU has taken are being evaluated currently by our vets. More information will be posted when it is available.
---
HOME | ADOPTING | ABOUT GU | EVENTS | SUPPORT

SHORTCUTS:
ONLINE ADOPTION APPLICATION | ADOPTION GUIDELINES | ABOUT ADOPTION | SPECIAL NEEDS HOUNDS