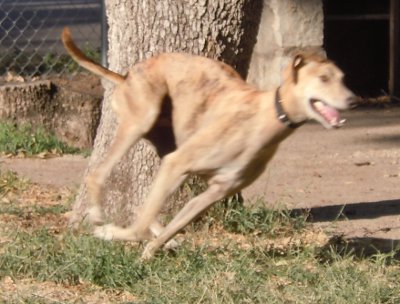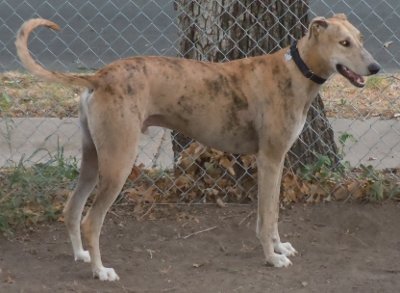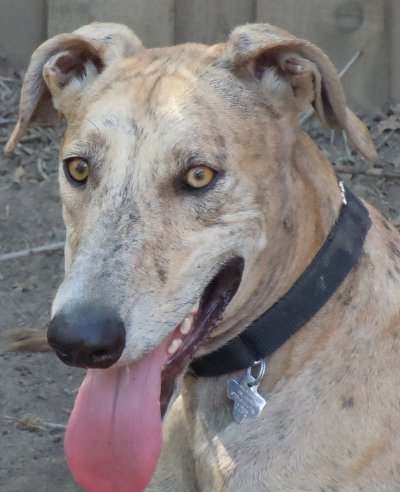 Duke
Duke is very "houndy" looking, with long ears and beautiful yellow eyes. After sending off for a DNA test, we now know that Duke is 1/4 greyhound, 1/4 Welsh terrier and 1/2 Catahoula Leopard Dog. He has several greyhound traits. He loves to run, is very laid back (he can crash with the best of them), and quickly sees anything that moves. He chased something (maybe a lizard) across the lawn into a woodpile, and kept walking around it for quite a while waiting for the critter to come back out.
Duke came already potty trained and he knows two commands, "sit" and "shake." He's very eager to perform, and appears to be very intelligent and highly trainable. He loves food and is motivated by it. He's very sweet and loving, and wants all the attention to be focused on him. Since he can't get his whole body in your lap, he's content with having his head there. He's not very kissy, but can give a good nosing. He really adores his humans.
When Duke first meets new dogs he becomes anxious and a little scared, and he growls. Duke needs to be an only dog since he can be very protective of his food, and is unpredictable toward other dogs. He also needs a very tall fence, or to be taken out on a leash. He has jumped out of both 4 foot chain link and 6 foot wood fences.