Help by becoming a foster home!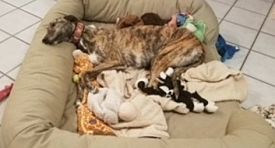 She is quite comfortable in her new foster home...
We also hear that she has a toy-hoarding problem...
We are still in dire need of foster homes for our incoming hounds. Foster homes are the bridge that leads to a forever home for our adoptable hounds, giving them a head start on getting accustomed to living in a home instead of a kennel, teaching them all the new and wonderful things they will encounter in a home that they may never have seen before.
If you are ready to give fostering a try, please send an email to mickynielsen@att.net. One of our foster coordinators will contact you to talk about fostering and how you might be able to help, what your obstacles might be and how we might overcome them together. We all want this to be a successful experience for you and your new foster!
Could you say NO? Neither could we!


We need your help!

Snowflake and Archer were surrendered by their owner who no longer wanted to care for them. A wonderful individual in their area reached out on social media in search of a greyhound group that would take them. One look at Snowflake in those deplorable conditions and the love he so desired just broke our hearts.

Without hesitation, Greyhounds Unlimited took them in to provide medical and emotional healing support. Their lives consisted of being kept outside 24/7 in pens. They were not given any exercise. We can only imagine what their daily lives must have been like…no animal should have to live like that. When they arrived into our care, Snowflake had pure liquid poop that smelled horrible.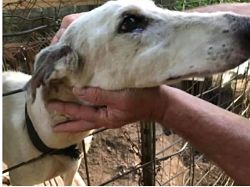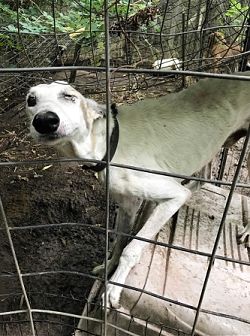 Snowflake
(formerly known as Poke because of his eye)
» Almost 8 years old
» Malnourished
» Heartworm positive
» Extremely poor physical and mental condition
» One of his eyes is sunken and not visible
» Most likely the eyeball will have to be removed once he is healthy enough to survive surgery
» He also has large growths on his chest that are scheduled to be biopsied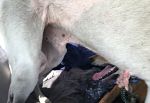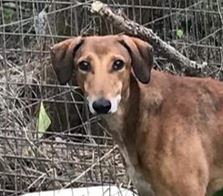 Archer
» Almost 7 years old
» Heart worm positive
» Evaluating physical and mental health

Remember Erin?
After one year she is still sitting in the kennel and looking for her forever home and family!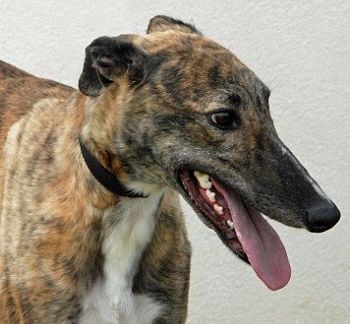 We need your help in two ways. Obviously the first is to become her forever home and family. The second is to assist us financially until she finds her forever home.
She is currently being boarded and as I am sure you are aware, this is not cheap. She also eats approximately 6 cans of canned food a day.
Approximately one year ago we took in a beautiful two-year old brindle girl named Erin. She is now three-years old and has been in GU's care and waiting for over a year for a very Special Home that will take care of her with her medical condition known as megaesophagus. She is petite with big brown eyes that can steal your heart. She is loving, outgoing, and loves her walks and playing with toys. She is active and playful.
To date she is still in the kennel ... She really deserves that place to call home and a family that can take care of her.
Erin has a condition called megaesophagus. In the past, such a diagnosis was usually a death sentence. Severe cases make it impossible for a dog to hold down food and water. A healthy esophagus is a muscular tube that pushes what is swallowed into the stomach. A megaesophagus is like a deflated balloon. It collects food and water until it can take no more, at which point the dog regurgitates all that she has just swallowed. The goal of food management with megaesophagus is to get food out of the esophagus and into the stomach as quickly as possible.
Because of Erin's condition, she needs to eat in an elevated position to increase the angle of her esophagus. She has a "Bailey Chair" that allows her to sit upright while eating. She knows the routine and eats her food enthusiastically in this manner. After she eats, her head must be held upright for about ten minutes to prevent vomiting. Erin is very cooperative throughout the entire procedure. Also, she should not have access to food outside of monitored feeding times.
If you would like to donate for her continued care, please make your donation here or go to
https://www.paypal.com/cgi-bin/webscr?cmd=_s-xclick&hosted_button_id=EB3MNP7JLY972
If you would like to consider adopting or fostering Erin, please contact mickynielsen@att.net or info@greyhoundsunlimited.org.
As always, we thank you for your continued support.
Donate and Express Yourself on our website
Memorial Page: Express yourself regarding the passing of a loved one, be it hound or human. These usually post within 7 days.
For more details and to Submit your Memorial Request
In Honor Of: Honor someone's Anniversary, Birthday, Graduation, Appreciation, Addition to the Family and anything else you wish. You can request a complimentary email (optional) be sent to the recipient containing your message. These usually post within 7 days. If you would like to have a photo posted along with your message you can email one to guonlinestore@msn.com.
For more details and to Submit Your "In Honor Of" Request
Rainbow Bridge: You can list your animal companion accompanied by your name on the Rainbow Bridge page. This is of no cost to you but of course donations are always appreciated.
For more details and to Submit your Rainbow Bridge Request
Can't Donate? Let others do it for you!
Tom Thumb Good Neighbor Program – Register Now and Help the Hounds
Tom Thumb will donate 1% of the purchase price of groceries when you use your Tom Thumb Rewards card. All you have to do is go to the Tom Thumb Good Neighbor Program, fill out the form using our Charity #2743, take it to the customer service counter at your store.