GREYFEST 2022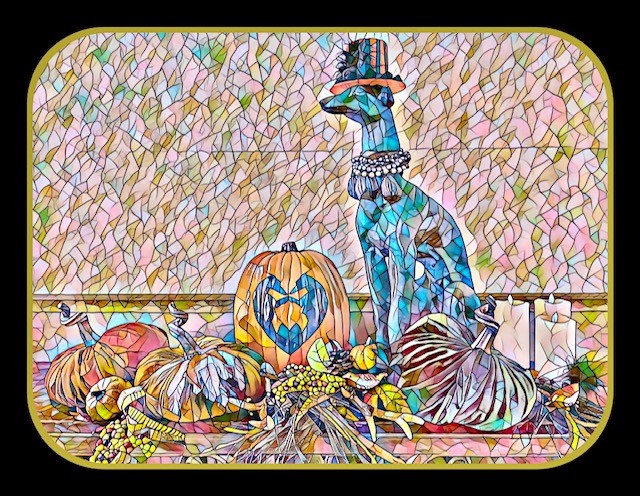 Sunday, October 30th
Noon until 3:00 PM

Doubletree Ranch Park
310 Highland Village Road
Highland Village, TX 75077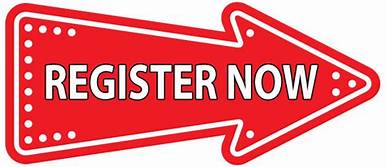 THE EVENT ... Greyfest is an annual fundraising event. A tremendous amount of time and energy is put into making this a profitable event and at the same providing a wonderful socializing atmosphere. Your registration fee of $5 will get you a special goody bag containing all sorts of goodies and you will be able to hang out with the other hounds and families.
YOUR MEAL (optional) ... TACOs TACOs and more TACOs … Your optional meal will be a Taco Bar catered by AnaMia's Tex-Mex. If you choose you can add a meal for $15 which will consist of: Two crispy of soft tacos with spicy ground beef or shredded chicken with toppings, spanish rice, refried beans, chips and salsa and your choice of tea or bottled water.
A LITTLE SOMETHING EXTRA ... We will also have a margarita machine churning out frozen margaritas. Purchase a Souvenir Margarita Mug for $10 and use it to get your free margaritas. Of course, for your safety and others we recommend consuming no more than three margaritas.
HOW ABOUT SOME SHOPPING ... You will also enjoy SHOPPING a wide array of items at GU's store, a variety of handcrafted jewelry by Shannon O'Reilly, Camp Greyhound will have her beautiful handmade collars and Lepope Designs will have a variety of items for sale!
A LITTLE FUN ... Dress your hounds up for our annual Costume Contest where the costume is up to you and your imagination!
CHECK OUT OUR ADOPTABLE HOUNDS ... All our available hounds will be out! Greyfest is a great place to meet the GU greyhounds who are looking for their forever homes and those who have found their forever homes. Stop by the Adoption Center and meet our available hounds and show them some love! If you are interested in adopting, then make sure you have filled out an adoption application on our website.
AS ALWAYS, WE NEED A FEW VOLUNTEERS ... We always need volunteers to help to set up and take down! If you can help us out, please contact Janis at regalgray@yahoo.com
BRING YOUR CHAIR ... there is limited seating at the pavilion.
Help by becoming a foster home!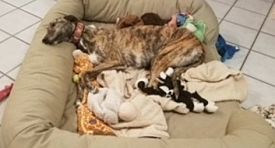 She is quite comfortable in her new foster home...
We also hear that she has a toy-hoarding problem...
We are still in dire need of foster homes for our incoming hounds. Foster homes are the bridge that leads to a forever home for our adoptable hounds, giving them a head start on getting accustomed to living in a home instead of a kennel, teaching them all the new and wonderful things they will encounter in a home that they may never have seen before.
If you are ready to give fostering a try, please send an email to mickynielsen@att.net. One of our foster coordinators will contact you to talk about fostering and how you might be able to help, what your obstacles might be and how we might overcome them together. We all want this to be a successful experience for you and your new foster!
Donate and Express Yourself on our website
Memorial Page: Express yourself regarding the passing of a loved one, be it hound or human. These usually post within 7 days.
For more details and to Submit your Memorial Request
In Honor Of: Honor someone's Anniversary, Birthday, Graduation, Appreciation, Addition to the Family and anything else you wish. You can request a complimentary email (optional) be sent to the recipient containing your message. These usually post within 7 days. If you would like to have a photo posted along with your message you can email one to guonlinestore@msn.com.
For more details and to Submit Your "In Honor Of" Request
Rainbow Bridge: You can list your animal companion accompanied by your name on the Rainbow Bridge page. This is of no cost to you but of course donations are always appreciated.
For more details and to Submit your Rainbow Bridge Request
Can't Donate? Let others do it for you!
Tom Thumb Good Neighbor Program – Register Now and Help the Hounds
Tom Thumb will donate 1% of the purchase price of groceries when you use your Tom Thumb Rewards card. All you have to do is go to the Tom Thumb Good Neighbor Program, fill out the form using our Charity #2743, take it to the customer service counter at your store.