Maxine
Adopted
8 years old · Female · White w/ Black patches · Not Cat Tolerant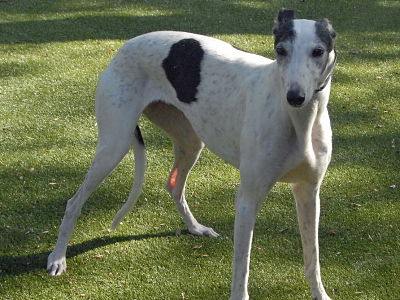 Bio
Maxine is a beautiful white with black patches 8-year old greyhound. She has dark, soulful eyes that beg for the love of her own special human. Maxine is one of the Cherokee greyhounds. When she came to us she was extremely shy and afraid. But in the past few weeks, she has really made some great changes. She comes for treats and when it's time to go outside and come back in. She is running and beginning to play with the other greyhounds, and she is starting to show a joyful spirit that has long been locked inside her. Her progress is a joy to watch.
She loves playing with the other hounds and would do very well with another greyhound or large dog to be her companion. Going for long walks is one of her favorite things, and she walks well on a leash. She also likes rides in the car, treats, and being lavished with loving strokes and pets by her humans.
Maxine would love to be in a home where her people have time to spend with her and let her know how special she is. Day by day, she will become more outgoing and loving to the right family for her. Could that be you? Please come and visit her at one of our upcoming meet and greets.
Maxine is good with small dogs but is not cat tolerant.