Aaron
Adopted
4.5 years old · Male · Fawn · Cat Tolerance Unknown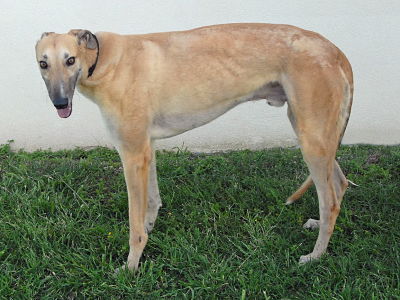 Bio
Aaron – A Special Guy
Aaron is an energetic, affectionate guy who needs someone who will be caring and sensitive to his special needs. It has been determined that he has vision issues, the left eye being the most affected. His vision in his right eye is fairly good. An ophthalmologist, who reviewed pictures of his eyes, believes this condition is vascularization behind the lens, most likely a congenital defect. While he felt like the condition will not worsen, he said Aaron may develop cataracts later in life.
Aaron does not let this condition affect his zest for life – he is playful and happy. He is, however, prone to separation anxiety and needs to be with other dogs and his people. He does not crate well and will need to be muzzled if his person has to be away.
Recently, Aaron began having seizures which have been brought under control with anti-seizure medications.
In spite of his difficulties, Aaron is a loyal and loving greyhound, liking nothing better than being by your side. He gets along well with small dogs and loves children. Since he is a big guy, older kids might be a better fit for his enthusiastic affection.
Please consider opening your heart to this sweet guy!